WORKSHOP : Funding : A bifocal look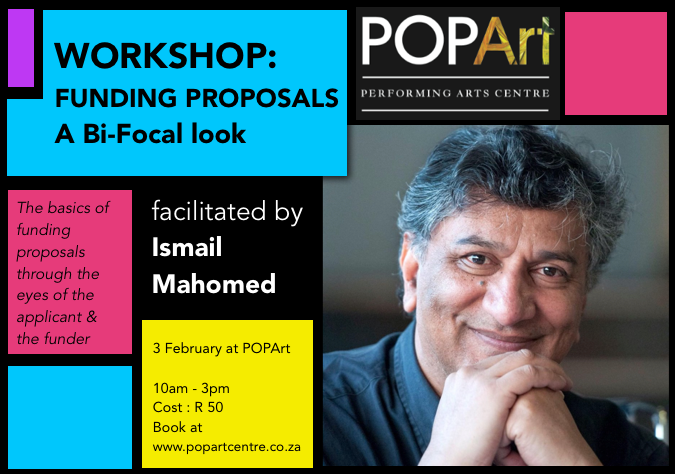 POPArt Performing Arts Centre is proud to present our first administrative workshop for the year- Funding : a bifocal look with Ismail Mahomed.
The workshop will focus on the basics of funding proposals looking at it through the eyes of the applicant and the funder.
Market Theatre CEO and former artistic director of The National Arts Festival, Ismail Mahomed has had decades of experience in applying for funding and receiving funding applications.
The following will be covered in the 4 hour workshop:
* The difference between funding grants, foundation grants and sponsorship of the arts
* Basic principles when writing up funding / partnership proposals
* Networking as key tool for effective partnerships --- how to move to the inner-circle.
* Cultural diplomacy : a tool for international collaboration.
Bookings : www.popartcentre.co.za
*POPArt performing arts centre is part of POPArt, and aims to create spaces for learning, growing, practise and conversation that will strengthen the performing arts industry. By focusing on skills development (from core acting training and discipline to administration) and maintenance for performing arts practitioners and by providing a space to network and converse, we believe that we can build on an already thriving industry at a professional level.
POPArt performing arts centre also offers beginners and introductory workshops as well as opportunities for children. The centre also provides corporate workshops using core acting training for communication, problem solving and team building.
Audience Responses
Very informative and interesting talk. I took away a lot of ideas. The 5th star would be for how a brand new player could start their process with absolutely no money in reserve. The workshop tended to be swayed towards the "already established" with a bit of money to fall back on. Hope to attend more of these. I have found it hard to step out of the performing narrative and in to an entrepreneurial one in a successful manner.
I fucking love it. Ismail was supa engaging, real, and informative. I left a 5 hour workshop energized wanting to jump into work. Yes. Yes. Yes.
Please do more of this kind of thing, this kind of knowledge engagement on the Arts and Culture sector is in direly short supply.
I would have liked a section on funding as soli artist....if o e does nor belong to an orginisation or run and orginisation. But lived it
It would have been great if a section on individual funding was covered as many artists are applying in their own capacity and not necessarily via an organisation.
I could not find the venue. I arrived from Pre to ria at 09:30 and driving around, looking until I saw "Pop Art Performing Arts Centre" @ 11:00. I was too late. I just passed and went back to Pre to ria. I will book for the next workshop on the 17th February 2018.
This was really good. Have been to many workshops with Ismail before, but always good to revisit and sharpen up on arts leadership. I guess, if I have to be picky, it would have been nice to do more breakaway stuff, or engage in a more integrated way (e.g., a fishbowl, or the like) as it was presented in quite an old-school lecture-y way. But that's a minor quibble. The talk was very interesting, the stories funny, and it was really great to see the workshop so packed for the 2nd time! Thanks for organising it again, and I look forward to more talks and workshops of a similar ilk in the future!
Thoroughly enjoyed it, very informative and great energy which made it easy to take in the information thank you. Is there anyway i can get a hold of the slides? Should i have any questions about the workshop, is there an email address i can send my queries? Regards Anthony
What an informative session, I'm glad I was able to make it even with the little time that I had. I invited my friend who's not in arts to attend and she she gave me a positive feedback and was grateful that I invited her. Please do more of these sessions and include topics such as audience building and retention. Mostly what I would like to see is young people who are doing arts who supports one another by attending each other's gigs and production. Thanks to Ismail and Christina for bringing a positive light to arts funding and for POP.Art for putting this together in such a reasonable price. Regards, Fezeka Motsatse.
The workshop by Ismail Mahomed was amazing! The POP Art Theatre was the best place to host it as the space is intimate enough to get the most out of a workshop such as this, it allowed for engagement of everyone present. Ismail exudes great energy, he is knowledgeable, humble, motivating, and gave us a host of real-life practical tips on the topic being discussed. I loved the way he contextualized art and art funding on both local and international levels. It was truly life changing. He has a brilliant mind! I am happy that he is giving of himself for the benefit of others!
The workshop was incredibly empowering. Thank you POPArt for hosting such a workshop.
Very insightful
I couldn't attend because of a domestic emergency.????
I found the workshop very informative. Mr Mahomed was a dynamic, engaging, and very knowledgable speaker. While information regarding individuals sending in funding proposals was touched on, I would have liked to hear more about the differences between individuals versus arts organisations asking for and receiving funding. In all, it was a brilliant way to spend a Saturday. Thank you for this lovely initiative!
It was a very insightful and informative session. It was very refreshing having a facilitator with such vast experience in the industry. Hence the information was not just a theoretical But is based on Real life experiences which makes it all the more relevant. For me the information presented and case studies while focused on the arts industry , the information is relevant for other sectors of society who rely on multiple partner funding. Thanks Ismail Mahomed for sharing your vast experience and your success stories with us. I will highly recommend anyone not just the arts sector to get to the next one in 2 weeks time if they missed this one. Thanks POP Art for hosting us. Looking forward to other initiatives in the future
Thank you for organizing the Workshop with Ismail Mahomed. Truly eye opening and unlocking a number of areas that Creatives struggle with when it comes to Funding & just general ways of running our business. I look forward to other of your Workshops in future. Thank you. Concord.
The workshop was very informative. I come from a totally different industry and it was highlighted even further by the speakers knowledge of the industry. A thumbs up from my end.
excellent
Ismael was well prepared. He was generous with information and with his experience.
it was insightul, kindly consider taking it to other provinces... Charmaine 0715573231
The workshop was helpful and informative for me.
Ismail is super knowledgeable about fundraising for the arts. His presentation was very informative and presented in an easy to understand and 'real' way. Thank you.