Born Naked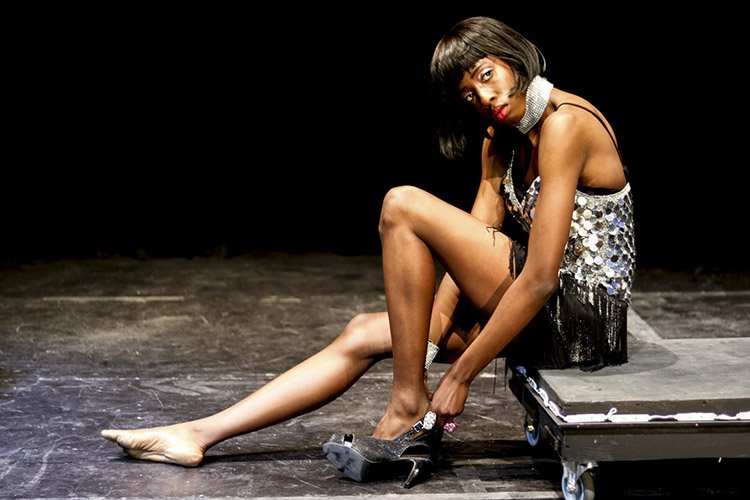 Fasten your wigs and lock up your partners… Blaq Widow is back and on the prowl… her venom is 15 times more powerful than that of the rattle snake. Brace yourselves for an unexpected visit from Blaq Widow's long time friend, Queen Bling.

Prepare to be assaulted by glitz, glamour, blinding colour and glitter. Get ready Jozi because we have lip synching, heel wielding, pageant prancing slay kweens on offer!

You won't see her at Monte Casino Bird Park or Zoo Lake on a Sunday for that matter, but you'll definitely find her rehearsing her new show Born Mapunapuna at POPArt from Thursday - Sunday… Not even Emil can save this technical rehearsal.
Read what the Critter had to say here: http://thecritter.co.za/born-naked/

A tribute to Thapelo Makhutle, you will always be remembered.

Audience Responses
i know this is very late, but i got waylaid. i'd be so interested to discuss ideas with the performers and the performance makers, cos it sparked such an interesting argument between my wife and i. i think the performers were incredible, however, i thought the content was less so - and not wanting to be another armchair critic, i'd like to volunteer my services as a dramaturg/sounding board, if this is interesting to the performance makers and performers. if this lands any place - i am available at avignon2010@gmail.com, my name is heeten
Excellent! Incredible performances. I laughed and laughed. And then at the end... Well, when it ended I knew for sure that every South African MUST see this work! Well done to everyone involved!
It was a very compelling story. The way the actors included the audience gave us a sense inclusion. So when the story went on and the issues started to rise, it felt more personal to us too.
I loved it especially the end part I nearly cried
This was my first time at the theatre and it was fantastic. Really beautiful show. Incredibly strong performances, compelling actors, easy to watch. An important message.
Watched it twice, I will watch it a third time. Brilliant show.
I loved how it communicated and strived to teach about lives of Trans people. This is one topic that is overlooked and never spoken about in our societies. We are very quick to judge and pass remarks without realizing how our words and actions can affect others. This play was an eye opener of how we tend to turn a blind eye on topics about gender and sexuality. I loved it, it brought tears to my eyes but in a good way.
It was great, the start was a bit wonky but it picked up towards the end.
It was nothing short of amazing and had so much insight for the audience. The actors were amazingly capturing and the audience was engaged with very well and we were entertained till the end. A very strong voice to deliver a very strong message ❤️!!!!
Absolutely brilliant, after a hilarious show everyone was left in tears after the hard hitting ending. Cast of phenomenal actors. Well done Kirst xxx
It was exhilarating! The ending was spectacular.
5/5 Funny, interactive, thought-provoking. Thoroughly enjoyed the show and would highly recommend to anyone.
The cast and storyline was amazing.