SERURUBELE : The Storytellers Series: Slam Edition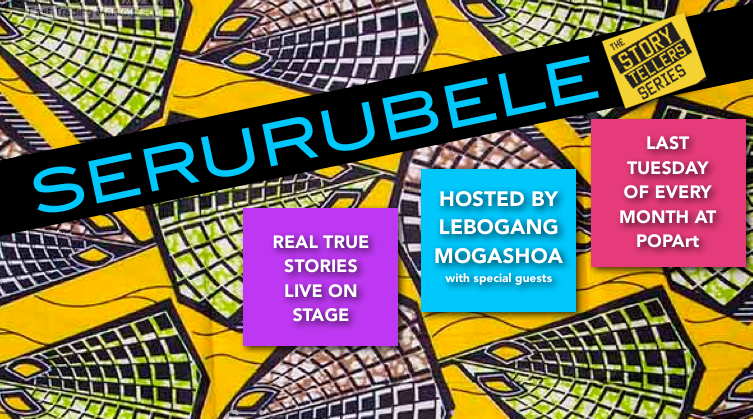 Joburg's only real true life storytelling show...

Where we share everything from the strange and embarrassing to the absolutely absurd. Less like a campfire and more like a dinner party... with a lot of wine, where the truth really flows...
For our first event for 2019 - it's another awesome SLAM edition.
Inspired by International Storytelling platform "The Moth"'s STORY SLAM format, we will be inviting you to our storytelling stage. It's open mic night for stories…Audiences are welcome to prepare a real, true story from their own experience (10min or less please), and may stand the chance of getting called up to tell it on the night… Otherwise, as an audience, you will have the chance to be exposed to a pot luck evening of brilliant true stories
The theme is : High School Stories (everyone has one)
Bring all your friends, and your full range of emotions!

The Storytellers Series aims to create a place for sharing New South African Stories, any stories. Each show is hosted by Lebogang Mogashoa
ABOUT LEBO MOGASHOA:
Lebo was born in 1985, in Johannesburg. He grew up in a small village, then a bigger one, followed by an all-boys Catholic boarding school and finally my big move into Cape Town where he completed a Film and Media undergrad degree. He then headed to Korea to teach English where he started his story telling series "When we were nearly Young", which developed a cult following. He returned to Johannesburg in 2013, and has been presenting the same series in partnership with POPArt. He is currently writing for TV on hit shows "The Queen" and "The River". He has recently received a SAFTA nomination for writing on "The Herd"
Audience Responses
Always love the Storytellers. Bit long at two hours though -- keep up pace a bit?
I understand from talking to Lebo afterwards that the uncoached stories might become the norm from now on. Maybe get Graham back to be a semi-regular contributor. He seems to have the knack of a good storyteller.
Hi. show was good. sadly short but really good please consider getting in touch with kaya fm marketing as afropolitans would love something like this. i say this becaause I consider myself a afropolitan. Bridgete Masinga's show would be perfect for marketing such a jewel. warm regards
Awesome experience!
4
Wonderful night with fellow humans :) Can't wait to come to more storyteller evenings.
Thoroughly enjoyable. Made everyone feel comfortable. Such a good environment to share. He is such a warm hearted, friendly person. Such a great experience
Love this so much.
Thoroughly enjoyable. Made everyone feel comfortable. Such a good environment to share. He is such a warm hearted, friendly person. Such a great experience
Absolutely fabulous! I want to go back to hear more stories from people that are very different to me that tell me about myself...
it was an excellent evening; absolutely exceeded my expectations. the stories were varied, unique and wonderful to listen to. special note must be made of last night's host; Lebo was fabulous. He really made the evening come together. highly recommended
Fantastic! laughed, cried and had a wonderful evening of soul-food.
Really enjoyed it! Such a safe space to participate. Tickets are a tad pricey for a collaborative event but I enjoyed it otherwise and will be back.
I loved every minute of this! I can't wait for the next one. I only wished it was longer :)
Beautiful raw and harrowing
Do it again!
It was great. First time I had been to something like this and it lived up to my expectations. It would be good if you could get a few more speakers, perhaps even two or three on the stage together? But then again that may not be the right format that you are looking for. Thank you and keep up the sterling work you are doing.
Cool show. A bit short (probably because of the re-launch) but something I would love to attend more.
Brilliant, humorous, heart warming and authentic!!!
Lebogang was great, as well as the other two story tellers. Personal and interesting stories that made the crowd laugh and relate to one another. My friend and I sat on the front row. I would suggest perhaps moving the stage more forward, so the audience doesn't have to strain their necks to see the performer? A doable change with only two rows? Enjoyed it, and would recommend it to others.