Six Inches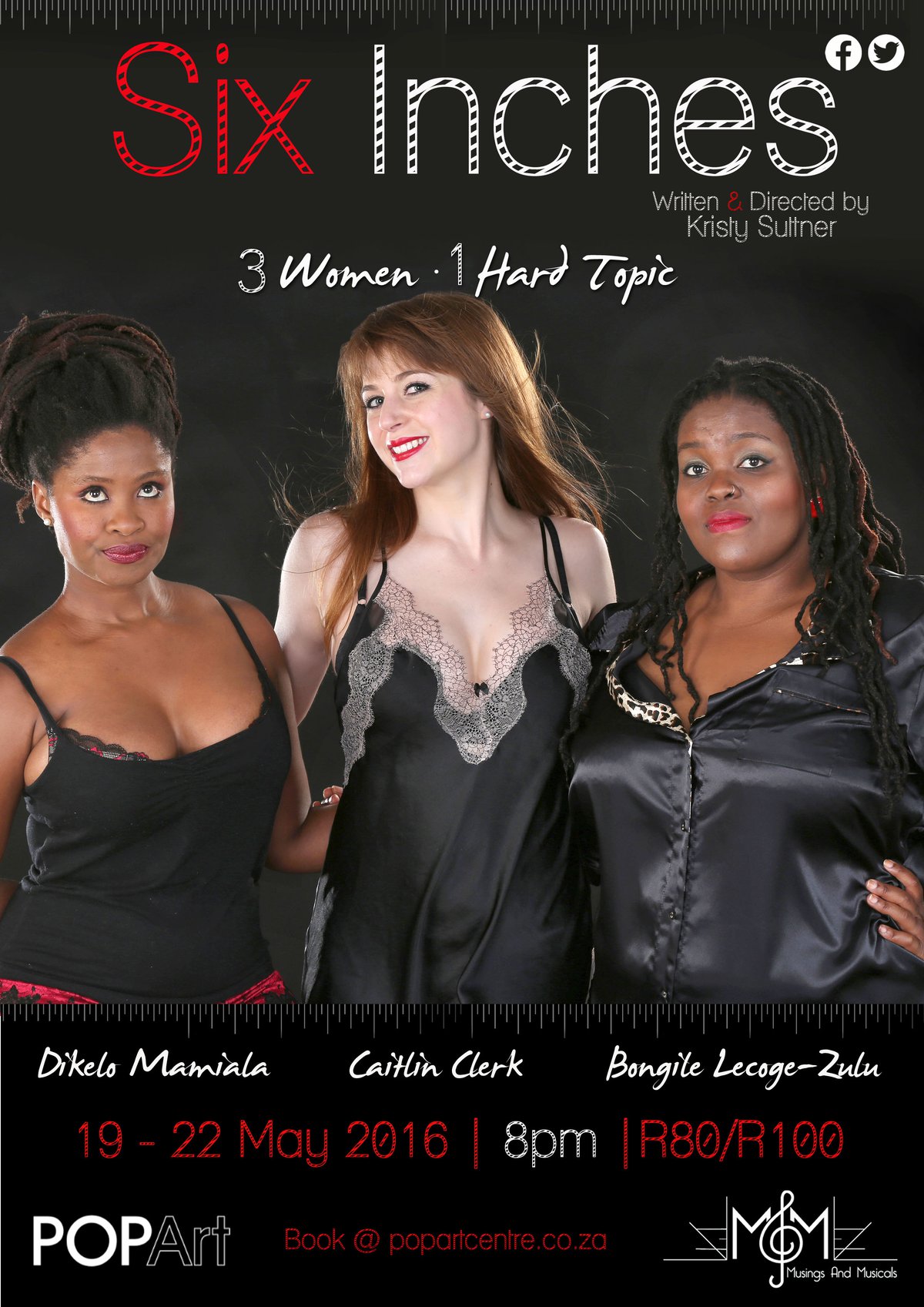 Sex! Need we say more? Probably not, but here it goes anyway…
It's a verb, it's a noun, it's an adjective, its an emotion, it's a feeling… Whatever it is to you, it definitely means a lot. One of the most subjective experiences the world over, sex is quite simply, everywhere! Sex is fun, pleasurable, painful, it creates life, ends life, starts friendships, ends relationships, expresses love, articulates power, it runs businesses and everyone, yes everyone, thinks about it. Often!
Sex is here to stay, whether it is your battle to remain celibate or your insatiable desire for more and more, where people are there is always sex. And, where there is sex, there is usually Six Inches.
Six Inches is an exploratory comedy about three girls and their different sexual identities. Didi (Dikelo Mamiala), Cat (Caitlin Clerk) and Tshepo (Bongile G Lecoge-Zulu) are three unlikely friends who we meet as drunk and giggling bridesmaids after their friend leaves her fiancé at the altar. A gritty and eye opening piece about the private workings of the three young girls' minds, the play evolves in to a sexy train wreck (yes, verbally gory, but its impossible to look away) where secrets and lies slowly bring the friends to the point of no return. How far is too far?
After two sold out runs at the National Arts Festival and PopArt in 2015, Six Inches is back to tease audiences once again. Its everything you want to know; about all the things you never want to speak about.
Directed by Kristy Suttner, and self produced by the cast itself, Six Inches has big plans for the year ahead. New cast member, Caitlin, joins the cast to freshen up the characters and give Kristy Suttner and Diaan Lawrenson's newly adapted script a bit of added spice, while Bongile and Dikelo return to the roles that earned them rave reviews last year.
Fears, fantasies and fetishes feature in this fun romp behind the scenes at a less than ordinary girls night. Come be a fly on the wall!
"So, is this a Bridget Jones in Jozi? Not quite. These gals are funnier and smarter." - Alexander Matthews
Kristy Suttner (Director/Writer) has had a colourful, creative and sometimes crazy career since graduating from AFDA in Live Performance. She is a singer, actress, director and writer whose career highlights include heading up her own corporate entertainment business, co-creating and directing "Is Ja!" which toured SA, and performing in Fiddler on the Roof at the Joburg Theatre. Kristy has most recently been seen in the highly successful Mix Tape
Audience Responses
It's always great to talk about sex, and cocks, and these women do it with equal doses of hilarity and sincerity. For me, after a heavy series of speeches and performances (culminating in the Ruth First lecture), the best part of Six Inches was to see a portrayal of friendship that was nuanced, sweet and funny.
It was great
For 3 new ladies on the block. It was soooooo good. Hope they can get far with acting and theater we need new faces.
Absolutely fabulous !!!!!!
Really enjoyed it; hilarious ladies
Hectic stuff. Enjoyed. Began to remind me of Marie Stopes and her story, which inspired the Sufrogette Movement.
Great show! Young , fun and also doing its part in breaking taboo!
The show was very good but your electronic payment system is faulty. I tried to pay on line on Friday and the system refused to accept payment from my debit card. I thus resigned myself to paying cash at the door which was also on offer and did so on arrival at the theatre. This morning I discover that my electronic payment was accepted after all, hence I have paid twice. Please get this sorted out.
Great show.
refreshing, original, thoroughly enjoyable! Well done!
very very funny.
Great show! The actresses were brilliant, especially Dikelo! :)
I was crying with laughter! Loved it so much. Dikelo stole the show!
So well-written and well-executed
Quality funny bits. Only downside was positioning of props. The Couch was to low so when an actor sat down it was difficult to hear them clearly. I ended up moving seats to get a better view.
A good effort and some good acting. I thought the play was ok, & was hyped up a bit but fell a little short for me. The theatre is small but the actresses' voices could have projected more. I think their voice projection could have helped a lot more with stage presence as sometimes they spoke over each other. And even if the style was natural, a bit more variation & drama would have heightened things.
Great script and acting!
super hilarious
Intense , hilarious, captivating ~~
Great show.
What a brilliant show, really enjoyed watching.
Thoroughly entertaining! I love the new actress.
Fantastic show!!
Great show.
One of the best laughs I have had in a while, and the biting honestly was so refreshing,. Thanks to the ladies for a super production!
It was great
Posted on the fb page
Really enjoyed it; hilarious ladies
Contemporary & hilarious girl power treat!