TALKING HEADS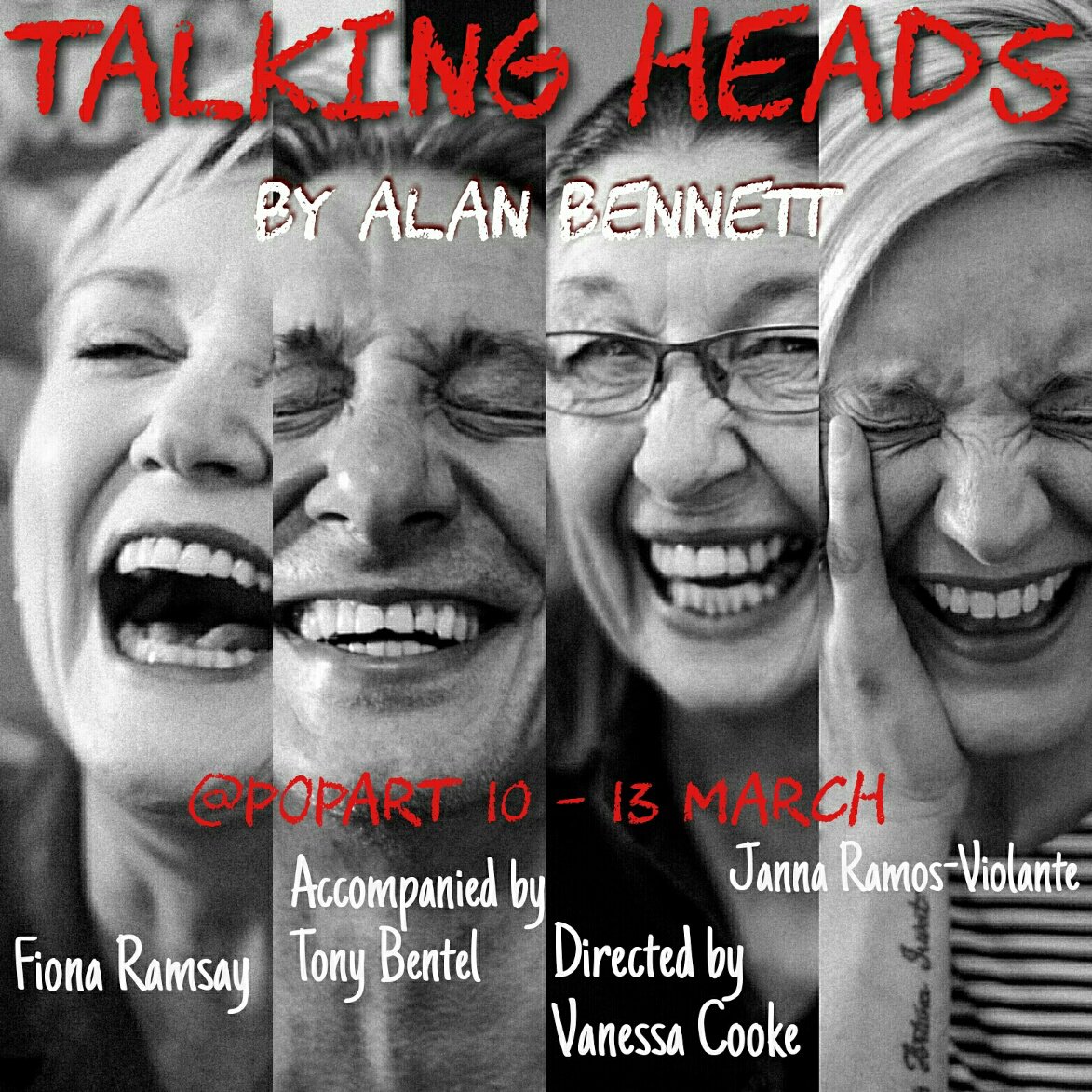 At once darkly comic, tragically poignant and wonderfully uplifting, Alan Bennett's Talking Heads is widely regarded as a modern classic. Exciting and innovative South African exciting talent, Fiona Ramsay and Janna Ramos-Violante star, accompanied on piano by Tony Bentel and keenly directed by Vanessa Cooke. This is a fresh new look at some of Alan Bennett's pieces, which are compelling, confessional and crackling with wit. The audience is given access to people's inner lives exploring recurring themes of self-deception and loneliness gently tempered with brilliant and searing humour. A must see!
TALKING HEADS may have lodged in the memory as entertaining exercises on funny and favourite themes, however it is disquieting, on re-acquaintance, to find them unsparing self-interrogations close to the theatre of the absurd.
What one notices most of all is the sense that Bennett's characters are shoring their resources against unthinkable alternatives and while they are generously humorous are also acute mini-tragedies.
Bennett explores the world of interiors, he takes into the minds of his characters and almost makes you stop breathing:
Janna Ramos-Violante plays Lesley, is an aspiring actress, who, after a series of unpromising extra roles on television, finds what she believes to be her big break as the adventurous Travis in a new film! It is not clear to what extent Lesley understands that she is appearing in a soft porn film.
Fiona Ramsay plays Rosemary - a lonely woman whose husband is intent on moving them both to Marbella in Spain. A keen gardener, who loves the optimism of plants and growth finds solace for her isolation by tending a neighbour's garden after her neighbor is arrested.
Audience Responses
The show itself was superb! fine performances. However, The rake of the seating was insufficient/terrible and so hard to see past the people in front!
Wonderful afternoons entertainment
Show was great. Booking less so. Did not automatically get confirmation of the booking. Also insecure about the banking part of the booking. It did ot feel that safe.
My friend Anita and I loved it. It was everything one would expect from Alan Bennett. And Fiona as usual was superb. Only thing I could suggest - and this has nothing to do with the play - try and find a place where people can collect their tickets other than the bar where there was one poor overworked bar - maid.
Wonderful.
The acting was solid but I didn't find it cohesive or particularly relevant.
5 Very well acted. Both actresses captured the essence of their characters vey convincingly.
Stunning performances from Fiona and Jana. So blessed to have been in the audience for Sunday's finale.
The box office and bar needs to get organised as people are buying drinks and also trying to pic up tickets and its chaos. The should split the 2 so that there are 2 lines The show however was fabulous but my friend got his phone nicked which was not a pleasant experience Thanks Ivor
5
Really great - thank you for getting that on stage - a real treat.
Show itself was excellent, but Front of House was badly controlled; the bar/box office counter was chaotic and the the doors to the venue only opened several minutes after the advertised starting time.
Magnificent theatre, Fiona is superb as was Jana - an utter treat to see such brilliance - polished, slick and God-the ending was so so tragic. Brilliant :)
Amazingly talented performances with a twist. Thoroughly enjoyed every moment in your special space.