Indigo View presents : ORIGINALS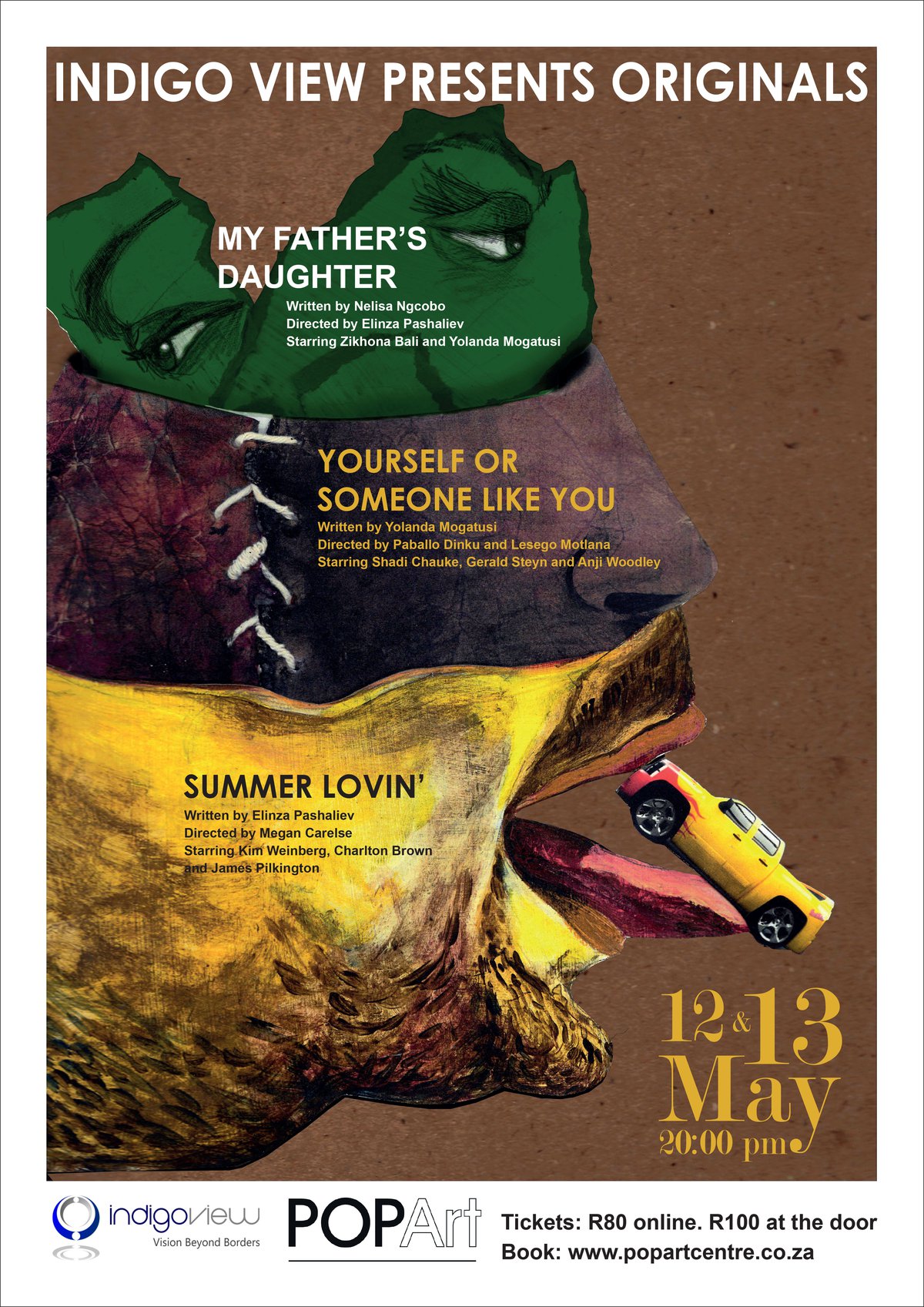 In 2015 the Advanced Actors Academy began and all of the three plays have actors, writers, directors and producers who partook in the academy's training course. This evening of Originals was initiated by Steven Feinstein as a vehicle to further develop and extend new skills in directing, producing and writing for the stage. Feinstein has mentored each production but allowed the development of the stories to be owned by the individuals, encouraging the collaborative and organic process that theatre-making can and should be.We have a voice as South African artists and the Originals has been created to give platform to those voices, an opportunity for production teams to learn new and necessary skills pertaining to our industry and to introduce audiences to another generation of artists who have something to say. The following plays will be staged for the first time:
MY FATHER'S DAUGHTER
What happens when you discover a sister you never knew about at your father's sickbed? Can a funeral bring these two sisters closer or will they remain strangers? My Father's Daughter explores this complex relationship in a new Indigo View Originals play, penned by Nelisa Ngcobo, directed by Elinza Pashaliev and starring Zikhona Bali and Yolanda Mogatusi.
YOURSELF OR SOMEONE LIKE YOU
This story of love, guilty pleasures and stolen moments will make you face some lingering ghosts of South Africa's past. We meet a couple who falls madly in love with each other, and in the process lose grip on their reality. This makes it nearly impossible for them to embrace and enjoy their love out in the world, where everyone can witness it blossom.
SUMMER LOVIN'
Three strangers joined by the Internet find themselves road tripping through Canada. The internet is a dangerous place and so is a vehicle filled with sexual innuendo, paranoia and awkward silences. Will Andy, Josh and Kristin ever get to their final destination?
Audience Responses
Briilant and innovative
the guys did a great job considering they are newcomers, but the night was too long and messy :-)
The show was amazing ! I was glued from start to end.
All three pieces were very good, for actors that are just starting out. It's great that venues like POPArt are supporting our arts and culture in this country.
The Shows were absolutely amazing, and the order of the three shows was perfect. Ending with a comedy was exactly what the audience needed. Well organised and run. Will definitely be back.
They were great and very organized. Iam proud of them.
Only issue was the lighting during the set changes while a show was play (not intermission). it just should've been darker....oh poor sould had to see where they were going ne. eish, as i buy them night vision goggles. the run was too short. I think they should play for another week
Brilliant!!!! Hats off to everyone!!!
The plays were excellent however the seating was not the best. It was very difficult to see the stage from the last 2 rows
Some of the acting was phenomenal and some was very overt. Overall a great effort