Kafka's Ape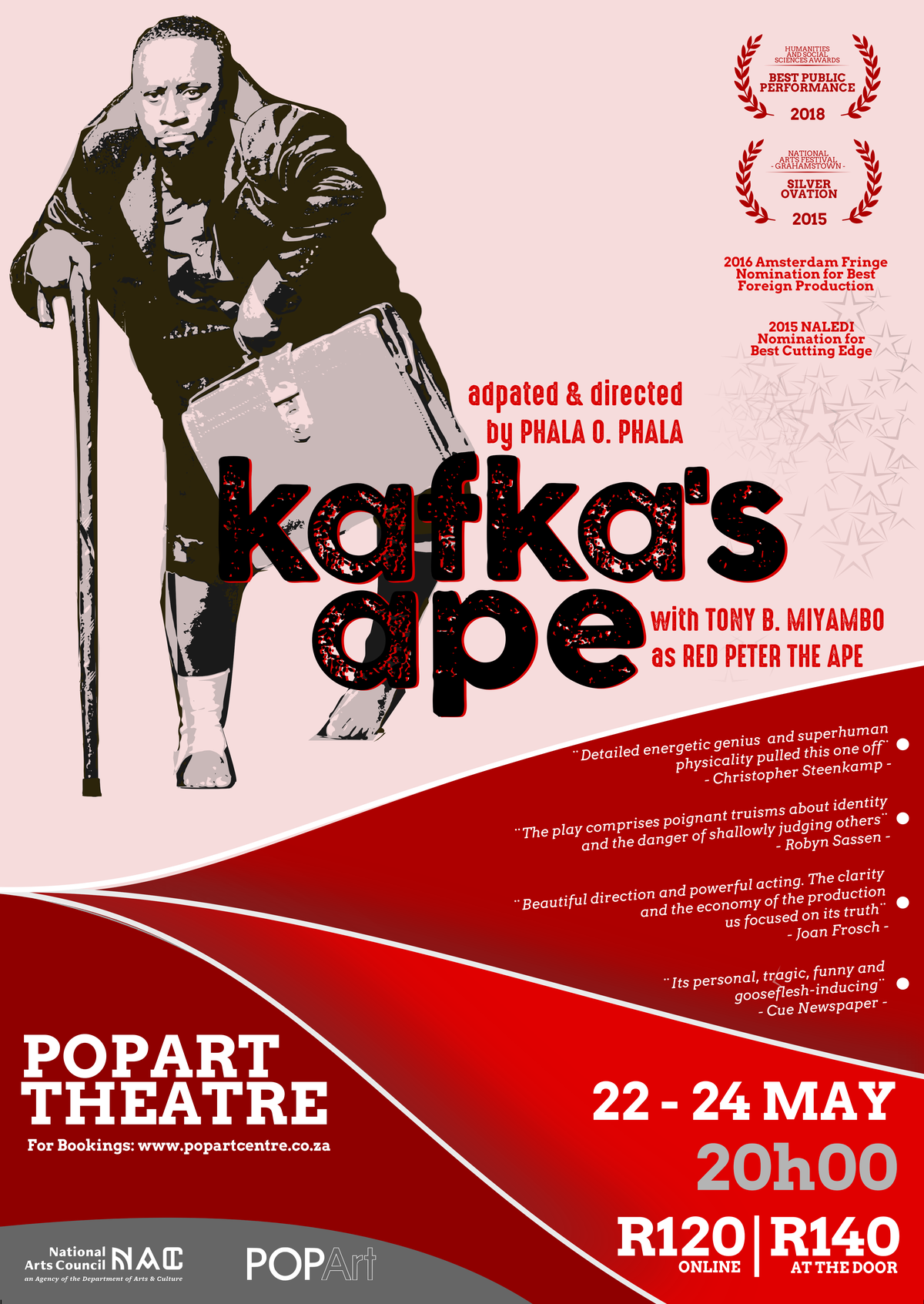 Ahead of a 2019 international tour for this outstanding piece, POPArt is proud to welcome back Kafka's Ape for 3 nights only!
Adapted & Directed by: Phala O. Phala
Original Design by: Liesel N. Retief
Cast: Tony Bonani Miyambo

Kafka's Ape is a solo performance adaptation of Franz Kafka's 'A Report To An Academy' about a primate's struggle to overcome the confines of captivity. The play engages in an allegorical observation of the South African society through the eyes of other; the ape Red Peter.

Kafka's Ape present a conflicting point of view in which traditional boundaries, categories, and norms are questioned; in which beauty, harmony, and symmetry are usurped by cruelty, dissonance, and abnormality. It opens up the reality that there exists something outside of and in addition to our "normal," "typical," "wholesome" world, and that is "other". The play thus compels audiences to identify and to meditate on their rejoinder to other(ness)as it highlights the complexities of identity in post-apartheid South Africa and in the human race in general.

"Minimalist décor, subtle music, lights and brilliant acting succeed in enthralling the audience with questions about the human condition, external realities, conformity and freedom. It's personal, tragic, funny and gooseflesh-inducing." - Martin Laubscher, Cue Newspaper.

"…the play comprises poignant truisms about identity and the danger of shallowly judging others." - Robyn Sassen.

"I hazard that Kafka's Ape is both 'ours' and 'theirs', a happy middle ground filled with beautiful unhappiness. You can't but feel like an insider, partly the crisp clear narrative, partly because you're inside, but detailed energetic genius & superhuman physicality pulled this one off." - Christopher Steenkamp

Audience Responses
A star performance. Subtle and intelligent and thought provoking. Most enjoyable at the most charming of theatres!
It was excellent as was the performance. We saw "Report to an academy" with Marius Weyers many years ago which was also very good. Lorraine and I would have both loved to have had the opportunity to thank him for such an exceptional performance. If possible kindly pass our comments on to him as he deserves every praise.
BRILLIANTLY BRILLIANT!!!!!
Best piece of theatre I have seen in a long time, possibly ever! Tony is absolutely brilliant in the role of Red Peter!
A sublime performance. Funny but primarily moving. It will stay with me for a long time.
Amazing
An important work excellently performed. Thank you.
Great performance...moments of thought, laughter and sadness...it was beautiful and touching...well done and intelligent.
Tony is phenomenal! I can't wait for him to get everything he deserves
A master class in what Jordan Peele coined "the sunken place."
Best play I have ever seen That was just brilliant on all levels Well done
Brilliant South Africanisation of this play, absolutely brilliantly acted. My only problem is that it is really very difficult to see the performance space properly - except if you sit in the front row.
Exquisite. I have watched this show now I don't know how many times, and Tony is one of the finest physical actors around. I don't remember when last I experienced such a lengthy and moving standing ovation, and it was really special being there with everyone. One thought (yes yes, I am the king of "one thought"/"one musing") - is there an option of lifting the stage up at all when you put the extra chairs in? Reason I ask is that if you sit near the back, you basically see the performer from waist up, and in a show like "Kafka's Ape" that means you miss a lot of the extraordinary physical detail Tony is giving to his feet. And (this is perhaps a note to directors), if anything happens on the floor, forget about seeing it. I know the roof is quite low and that this is a limitation of the space, but wondered if it were possible to raise the stage even to rostra height? I am sure, though, that this is an issue you've thought of a bajillion times before.
It was incredible. I saw follow any future works by this duo. My first comment to my husband as we leaving the theatre is that Pop Art curates excellent work. The only suggestion I have is the seating prevented us in seeing Tony's movement. Luckily the written work did not rob us of the experience. We were in the first elevated row. And I do also understand packing more bums on seats for survival of the theatre and the livelihoods of artists. best intentions, Mun Ying De Lacy
Best play I've seen in a while. Tony's performance was top notch
Brilliant piece of work
Magnificent show!
It was nothing less then phenomenal! Powerful, intense, thought provoking, heartbreaking and inspiring. The script is brilliant and the performance was truly one of the best I've ever seen. The theatre is also very nice and the booking and ticket collection seamless and pleasant. Thank you
A sublime performance. Funny but primarily moving. It will stay with me for a long time.
Such a powerful, thought out, deliberate performance
Brilliant, thought provoking piece and performance!