Claudine Ullman : Artificially Infeminated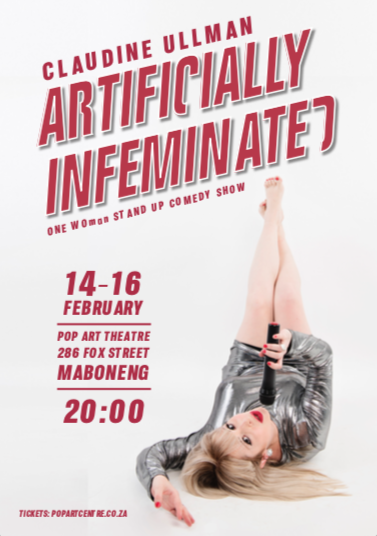 Artificially Infeminated is Claudine's debut one woman stand up comedy show that explores the intricacies of being cis gender female, pale white, chubby Jewish and middle child in Jo'burg #millenialslovelabels.
Claudine explores everything from her childhood infatuation with Raphael (the Teenage Mutant Ninja Turtle), to her current infatuation with her double chin. Other topics include thigh gaps, complaining and how watching The Secret repeatedly isn't the secret to getting rich – which is the real secret – are you following? She discusses deep questions that explore the human condition like the battle between men and women and the battle between gym and tennis biscuits….
This show is a fresh, fun and surprising take on stand up comedy and will leave you thigh clapping for more. If you don't like it, you can always ask to speak to the manager.
Audience Responses
A good laughter. Daring, deep, nuanced. Well done.
Claudine was fantastic- great performer and the show was very entertaining and funny.
Very entertaining and enthusiastic performance by a serious artist. Well done!
It was too long, otherwise great
She is funny, but she needs to work on the fluidity of her act a bit. I get that this was her first show though and I am sure this will come the more she performs
Aaaaamazing.
Unnecessarily crude jokes. Can't believe her family was there. Much funnier were the jokes about people thinking she's pregnant, weeing while waiting in line to the bathroom, Charleze Theron being discovered at the bank and so Claudine goes to the bank to audition. These jokes are funny, clean and not offensive. To me, dirty jokes are cheap, a dime a dozen, don't require much thought. Much more creative is to come up with funny jokes that are clean.
Absolutely brilliant !!!
Wacky and crazy. Felt like Fear and Loathing in Las Vegas, total trip. Claud's could just work on her punctuation, there was no setup and climax for the audience to follow, but maybe that would loose the acid like trip if you were able to follow her.
She is great, one woman show was awesome