Dis Koue Kos, Skat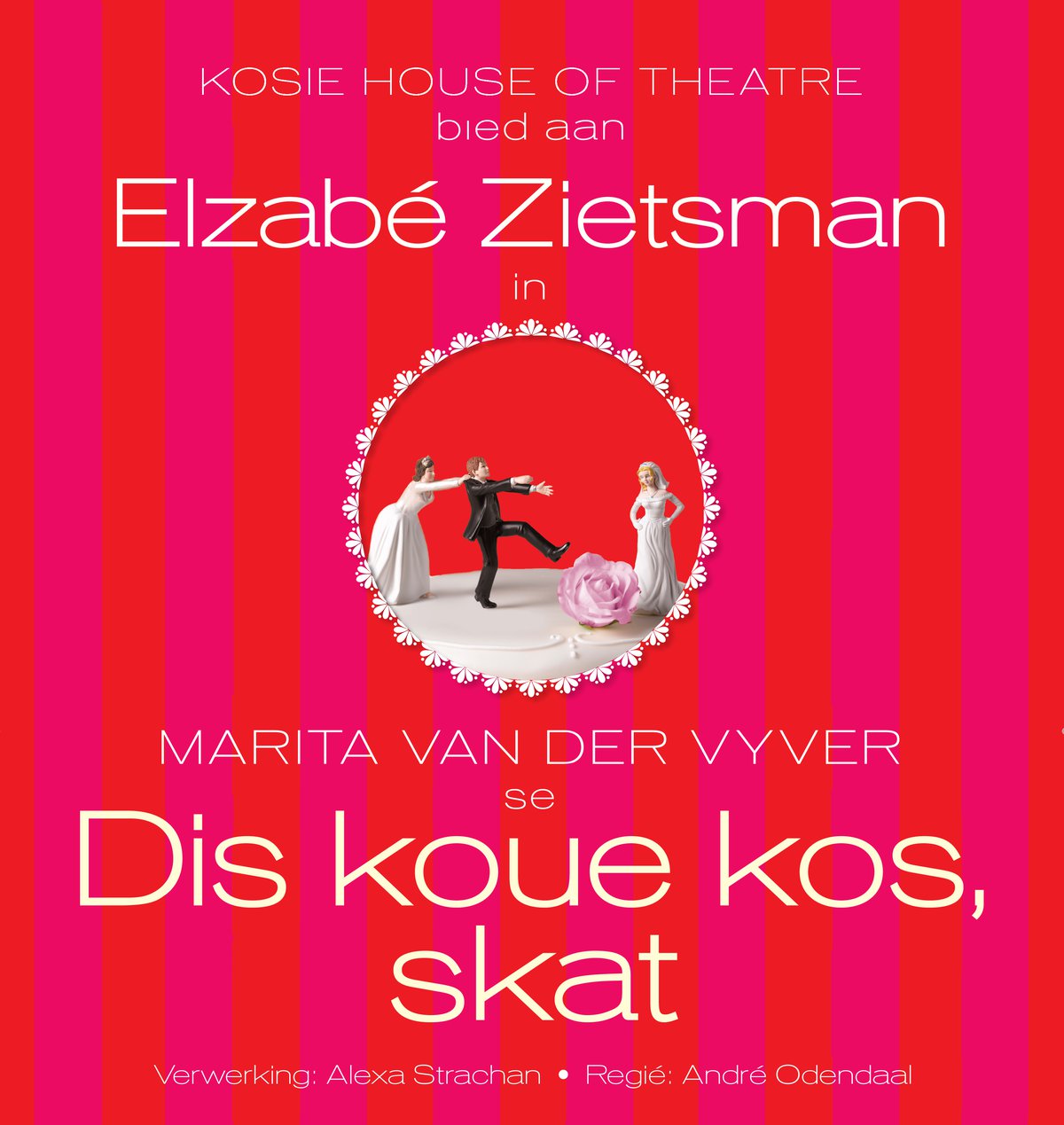 Dis Koue Kos, Skat tells the devastating, yet hilarious story of Clara Brand- a woman going through the dramatic phases of a divorce after her husband leaves her for her best friend.
Ons maak ons kennis met Clara Brand, korrespondent van faam. Sy skreeu om wraak, want haar man het haar gelos vir een van haar vriendinne!
Dis 'n vreeslose, soms skreeusnaakse ontboeseming. Dit skitter, ontplof, skok en verkwik en sal vroue én mans vermaak. Elzabé Zietsman – nie die kabaretster nie, maar die uitmuntende aktrise – is Clara. Verwerk deur Alexa Strachan en geregisseer deur André Odendaal. Moenie dit misloop nie.
Gebaseer op die boek van Marita van der Vyver.
R120 online. R 140 at the door.
Audience Responses
Fantasties !
Wonderful mixture of laughter and sorrow all mixed into the powerful performance by Elsabe Zietsman. The theatre itself a wonderful intimate venue.
Fantasties !
Elsabé was just magnificent. She delivered an honest performance. Loved it!!
Elsabe Zietzman se vertoning was uitstekend, ek het sommer tuis gevoel en kon identifiseer met die karakter. Omdat die teater klein en intiem was het dit gevoel asof sy direk Met my gepraat het.
I have been to Maboneng several times. Last night was the first time that I was fearful. Firstly, at the bathrooms, there were questionable characters and I thought that I was going to be robbed. Secondly, while walking to my car we were harrassed by a seemingly drunk man wanting us to get into his car. My suggestion is for more visible security. I will think twice about returning to the area.
Fantasties !
Fantasties !
Fantasties !
Beautiful production! Love your work, guys xx
Show was great but every time I go to your theatre the show never starts on time. Matinee was due to start at 3h30 and did not start until 3h50. Hope the starting times can be adhered to. Thanks Ivor
We had a lot of fun. Will do it again. Thanks.
Absolutely brilliant!!!