JUST ANTIGONE : An adaptation of Sophocles Antigone.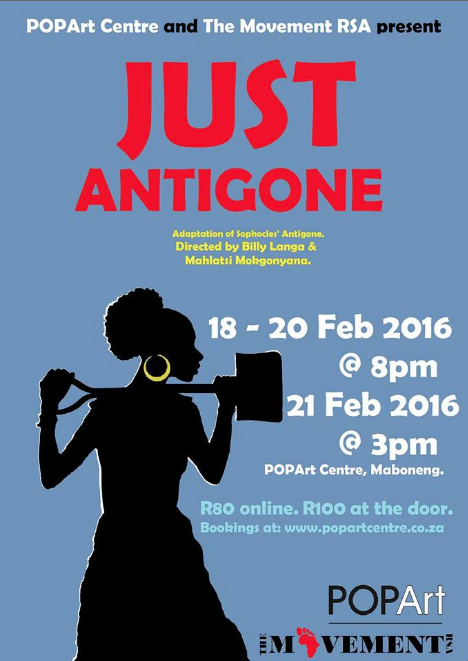 An adaptation of Sophocles Antigone.

ADAPTED BY
MAHLATSI MOKGONYANA
DIRECTED BY
MAHLATSI MOKGONYANA AND BILLY LANGA
FEATURING:
NYAKALLO MOTLOUNG, JOVAN MUTHRAY, MLINDELI ZONDI, CAMPBELL JESSICA MEAS, BINNIE CHRISTIE, STAR TLALI. SANELISIWE JOBODWANA.
In Thebes of the seven gates tensions are high someone has disobeyed the law, But no worries there is another thing coming for those who dare go against Creon's orders; all hell will break loose and the traitors will not escape the noose.
The soon to be king of Thebes "Creon" Antigone's uncle has ordered that Eteocles who died defending the country is to be buried with full honors while the body of Polynices the invader is left to rot but some people like Antigone JUST don't listen they will go all out to do what they think it is JUST right even if the penalty of their deeds is death.
JUST ANTIGONE is an exciting fast paced ensemble work that creatively chronicles the odyssey of the stubborn Antigone the daughter of the late Oedipus, it is a classic for everyone, it's fun, Simple, interactive and imaginative; a great way of introducing theatre classics to young people.
Audience Responses
I give it a 4!! The cast was fresh and dynamic, impeccable ensemble and chorus work impeccable, funny, witty, and an refreshing take on a classic. Loved it.
Very effective production that conveyed Antigone's story and the key themes of the original with clarity & energy. Look forward to seeing more from the company :)
I enjoyed the adaptation the SA twist was fun and we'll put together. Congratulations
awesome show. love all of it
Excellent cast, performances...much respect to the cast for sticking out in sweltering heat on Sunday; I was melting in the audience. Maybe some roof fans/aircon?
Fabulous, a very clear, accessible adaptation, which is entertaining, fresh and with strong performances. Excellent! I highly recommend this for a schools tour!
Brilliant.
I enjoyed the adaptation the SA twist was fun and we'll put together. Congratulations
I been following these young talents and I must say I am impressed at the rate of the growth. The show was amazing, I loved it.
I'm glad I got to see this work and I doubt that any other theater in the city would have shown it. I enjoy the way that PopArt isn't afraid to take risks with their program.
THE PLAY WAS GREAT I MUST SAY AND HOW I WISH WE CAN HAVE OTHER SHOWS BECAUSE ON OUR RETURN BACK HOME, MANY PEOPLE GOT INTERESTED AND HOPED THAT IT CAN BE REPEATED. IT POTRAYS THE FUTURE OF THE ARTIST TO A HIGHERR LEVEL.
Brilliant! Really enjoyed the performance.