DIRT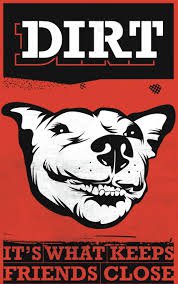 A robust, hilarious, story about three old friends on their way to
 bury a fourth. A story of male friendships.
From the soap star actor Sam, with an ego the size of Everest, to the exhausted new father Grant, who's terrified of his post-natal wife, and to Wayne, a man whose life has fallen through the cracks but who hasn't realised it yet, Cairns inhabits his comical characters with hilarious effect.
This multiple award winning piece, highly acclaimed will be performed at POPArt shortly before heading off to the Brighton Festival.
"Dirt provided a moment that crystallised the transcendental potential of theatre. It's that moment when a play turns into alchemy: performance, story, sentiment and technique combine to form a new element in your head and heart, thereby changing the way you see the world from then on. It's that moment that pushed me from the theatre into the night convinced that it was a perfect piece" - Zane Henry
"To say that Cairns 'becomes' each character is an understatement; as in The Sitting Man, he easily captures the little nuances of their speech, mannerisms and general outlook on life. With only a small stepladder and some well chosen music and background effects to bring you into their world,he switches between them with a speed and comfort that leaves you picturing all 3 characters in the car at the same time, each one significantly different from the others in every respect with the obvious exception of costume. The fight scene… the cop car chase… the hymn sung by all 3… and the ever present dog… this guy is a genius!" - Liam Wise
"Great vignettes in an excellent play about death, friendship, ambition, love, lust, young fatherhood,resentment and hope" - Steve Kretzmen
"The plot of Dirt doesn't sound like much: three men and a dog on the road. But on stage it is a sizzler. It is funny, bizarre, elegiac and sweet. It is rooted in our landscape of paranoia, fear and hope and yet it is also a universal story of people looking for friendship, love and happiness. Much of the magic is due to Cairns's masterful grasp of theatre craft – gesture, silence, expression" - Robyn Cohen
Audience Responses
Really good show, and James Cairns is excellent at what he does.
Fantastic :)
Cairns is brilliant
Brilliant - great vibe and brilliant show
Seamless shifts between the accents of the characters was amazing to watch and hear. Such a great performance.
Skillful and focused performance and direction. Great theatre.
Absolutely brilliant!!!!
Fantastic show! I was a bit worried about the number of people in the small space and whether there is adequate provision for dealing with fire, for example.
We really enjoyed Dirt, James Cairns is excellent.