Couplet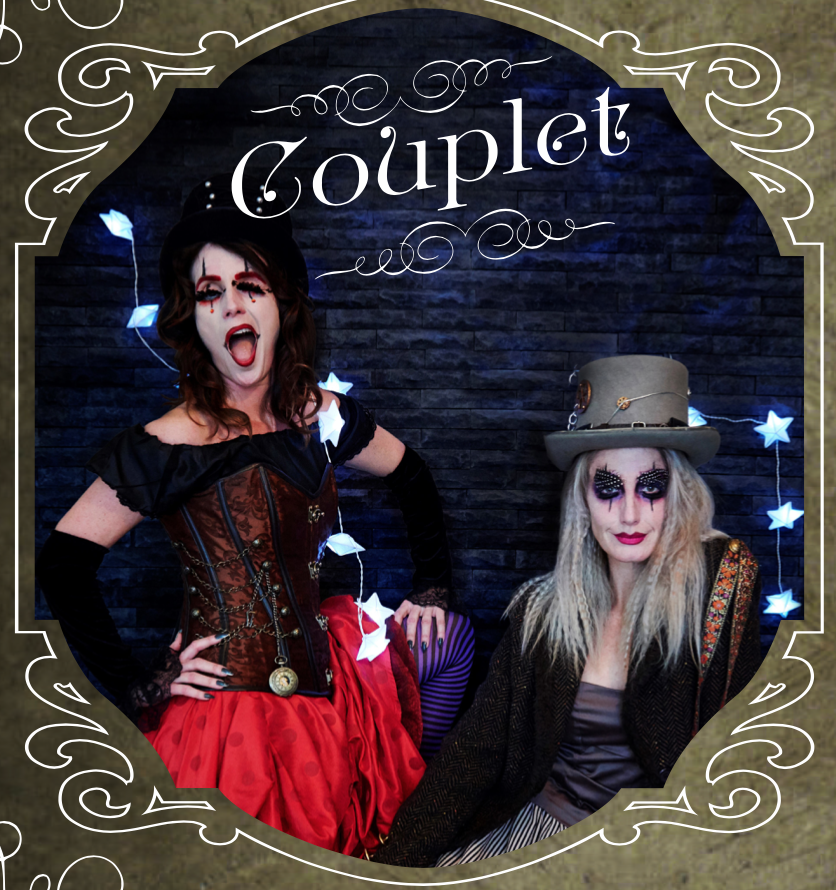 A land of twists and turns where lying has consequences for a little girl, a pirate ship with talking vegetables, two homeless thoughts named Fear and Doubt, a hunchbacked man struggling with forgiveness and a boy, a dog and a splintered heart… these are just some of the wacky things you can expect to encounter in this original production, penned by Michelle Douglas, co-written with Steven Feinstein.
Be transported to a bygone age of storytelling as two Vaudeville-esque sisters fabricate their fables, assert their allegories and stimulate five stories in a unique exploration of what it means to be human. Conceptualised, designed and directed by Feinstein, Couplet (written almost entirely in rhyming verse) uses shadows, puppets and masks, employing spectacle and storytelling as it boldly looks at the timeless themes of hatred, prejudice, love, redemption and transformation through the eyes of these two stage sisters, lost in a Victorian music hall somewhere in time, or their imagination.
Theatrical and thrilling for all ages, Search for Productions believes in telling stories that should be relevant for contemporary audiences and Couplet is a modern take on the tradition of magical realism in children's theatre. Couplet aims to surprise adults and children with a form of story-telling and staging not often seen in South Africa. A two-hander that draws inspiration from the styles and genres of magical realism, vaudeville and fantasy with a postmodern pastiche take on story-telling, Couplet is a production which addresses issues which are highly relevant and topical, in an entertaining, inspiring, visually exciting style performed by Michelle Douglas and Julie-Anne McDowell. Couplet promises to be a theatrical event that will stay in the minds and imaginations of audiences for a long time to come!
This is the first performance of Couplet, before it lands at The National Arts Festival 2017.
Praise for previous shows by Search For Productions:
Actress Michelle Douglas weaves seamlessly between characters, accents, mannerisms, and above all, crazy and sane. This show makes you think, about life and the universe, but it also makes you think of the ordinary made extraordinary by perspective, and lack of fear. Congrats to Steven Feinstein for directing the subtext as well.
Chris Avant-Smith
Actress Michelle Douglas keeps the audience captivated by the complexity and depth of this spectacular show. Her performance is as brilliantly intricate as the subject matter.
CUE, NATIONAL ARTS FESTIVAL 2016
Audience Responses
This was a though-provoking, dramedy. Everything from the acting to the costumes and set design were superb and outrageously gorgeous! Fantastic script and an incredible director!
Great show in an intimate theatre.
Lovely show. A very interesting plot and I love the childish play on serious topics.
The performers were excellent, loved the characterisation, loved the accents and costumes. Had some difficulty hearing a lot of the content. Was more drawn to the pure story telling aspects (the gossiping girl, the snooty vegetables, Doubt and Fear) than the moralising pieces (the hump,the big heads) All in all a lovely show. wish it every success.
Very hard to compare as i have never been to anything similar. As a first impression, the acting was extraordinary, the costumes great, the many very clever use's of the props was impressive. Overall one walked away feeling rewarded and entertained, with a few life lesson reminders!
Orignal and poignant, Couplet was a great escape from the daily urban grind of johannesburg. Outstanding performances. Would suggest a break in the tempo of each act as they became monotonous over time. Will definitely recommend
Genius and well-written play; performed by two actresses who played with a tremendous amount of sustained energy, humour and drama. It's an ABSOLUTE MUST-SEE for all young and old!
Loved the production! Actors were brilliant. Would not take children.
I'm not an avid theatre goer so I don't have much to compare it to. That said, I enjoyed the play. It started off slow for me but when I got into it it became really enjoyable.
Awesome show with great messages for all
Really enjoyed the show. My kids did too but it was rather advanced for a younger audience. We always enjoy POPArt theatre as the shows are unique and creative.
Great to see something so different with such thought provoking themes. Very entertaining. Beautiful puppets and set.