MACBETH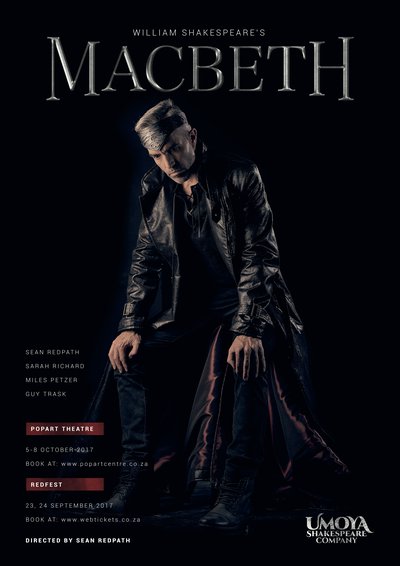 The Tragedy of Macbeth takes us into the mind of one of Shakespeare's most conflicted characters; Macbeth, a valiant military leader whose dormant desire for power is awakened when a mysterious prophesy foresees his becoming king. Allured by the promise of greatness, and spurred on by his wife, Lady Macbeth, he takes it upon himself to ensure the prophesy is fulfilled. Desire for power soon gives way to the fear of losing it, and he finds himself compelled to course of action that ultimately leads to his own demise.
Inspired by the tireless work of the Royal Shakespeare Company and its founders, Umoya Shakespeare Company is dedicated to staging dynamic productions of Shakespeare's plays, founded on performance excellence. Umoya means 'spirit' or 'breath of life', and it is the mission of Umoya Shakespeare Company to once again breathe life into these theatrical masterpieces.
The Creative Team:
Sean Redpath (Creative Director of Umoya Shakespeare Company and Performer)
Sean trained as an actor at the University of the Witwatersrand Drama School as well as in dance and musical theatre at Tshwane University of Technology. He has performed in both drama and musical theatre productions, most notably Fiddler on the Roof, and Christopher Marlowe's The tragical History of Dr. Faustus. He has directed several musical productions, most notably Little Shop of Horrors. He also carries several film and TV credits, and regularly coaches fellow professional actors.
However, Sean's greatest theatrical passion is for the plays of William Shakespeare, a passion that has grown and been nurtured with time. He spent several years in London continuing his training as a classical actor, which included work with Barbara Kinghorn, former actress with the Royal Shakespeare Company (RSC), as well as closely observing and studying the Shakespeare productions of Trevor Nunn, a prominent former director of the RSC. In South Africa Sean participated in Shakespeare workshops with Louis Scheeder of the New York University Tisch School of the Arts, whose work ties in closely with that of the RSC. Much too was learned in workshops with South African veteran Shakespeare Actress Dorothy Anne Gould.
Sean founded Umoya Shakespeare Company in 2016, with the aim of creating a truly South African Shakespeare Company with standards of excellence comparable to the RSC and other great Shakespeare Companies.
Miles Petzer (Performer)
If acting, directing and scriptwriting was a three course meal, Miles Petzer would be eating it daily. Here is someone who's passion and dedication is only the top of the menu. Hailing from the homeland of Paul Kruger and Jack Parrow, Miles graduated at the Tswane University of Technology earning a B-tech degree in Drama and Film studies.
Since then he has enveloped himself in Theatre from Shakespeare's "Othello" and "Henry V" to Nicholas Ellenbogen's "Horn of Sorrow", in Film concerning the likes of Richard Van Der Westuizen in "Dinner for Two", and in Television playing James in "Binneland" and Corporal Murry in BBC's "The Last Post". Miles has appeared in many other things but unfortunately bios are short.
Versatility, Understanding, and Professionalism are some of the cornerstones Miles approaches his work with and aside from reading and long walks on the beach, Miles enjoys playing guitar and singing in the car. This is a young man who loves life and ultimately loves good food.
Sarah Richard (Performer)
Sarah Richard is an actress, singer, voice artist and dancer. She completed her studies at Tswane University of Technology in 2008, and at RADA in 2013. Since graduating she has appeared in local television shows Binnelanders and 90 Plein Street. Musical appearances include Aspects of Love, Boys in the Photograph, Seussical, Freckleface Strawberry, Robinson Crusoe, Pippi Longstockng, Sleeping Beauty, Penelope Pixi's Birthday Adventure, Into the Woods and Shrek the Musical. Theatre appearance include The Mouse Trap, Luke and Helena, Othello, Thrice Upon a Time, Rumlestiltskin and Locked in Locked out. Her performances in Pteradactyls, Faust and Penelope Pixies Birthday Adventure earned her nominations for both the Naledi theatre awards and the Durban Theatre Awards.
Guy Trask (Performer)

Guy Trask trained as an actor at Open Window Institute, majoring in screen acting, film and television. He stared in several short films, most notably Bennie Bester's, I've seen God, She's Black and The Middle. Guy is also no stranger to the stage, having had training at Marion College where he obtained consecutive distinctions in drama as well as in The Trinity College of London Advanced Performance Certificate. Performance highlights include Torvald in Ibsen's A Dolls House, Simon Chachava in Brecht's The Caucasian Chalk Circle, Vladimir in Beckett's Waiting for Godot, Frikkie in Reza De Wet's African Gothic, and Hamlet in Shakespeare's Hamlet.
Guy makes his professional stage debut in Umoya Shakespeare Company's Macbeth.
Audience Responses
Outstanding performance.
We thoroughly enjoyed the performance of Macbeth. Sean Redpath and the cast were superb! 5 stars!
A very well executed Macbeth by all members of the cast
Loved the intimacy of the venue. Actors superb! Parking a bit of a problem. What a lovely way to spend a Sunday afternoon!
Outstanding performances by the entire cast
Very good pŕoduction. We have already commented and given a rating of 5
The raked seating is not raked properly so visibility is limited if you are sitting in the second row
The actors performed exceptionally well and the theatre overall is cosy and comfortable, which is what we enjoyed the most. However, what would be of use is maybe in further productions as such, perhaps more actors playing each a role would be better than the same actors adopting more than one different roles. Furthermore, there were some parts of the play skipped, which we were waiting to see, however this is understandable due to the time constraint. Otherwise, it was a lovely experience. Thank you.
It was brilliant, they really did it justice.
Awesome
great actors, well directed and interesting 'punk' aesthetics Helps if you know the plot as Macbeth in the original text is not an 'easy ride'
Great performance by the group of four actors!
Thank you! The show was beautifully staged and acted, and the range and versatility of the actors was incredible. I salute you all. I have two comments / critiques: 1) Sometimes it felt like the lines were rushed through, and lost some meaning as a result. 2) For me, the tension in MacBeth is due to the fact that at the start he seems like a nice guy. I didn't feel compassion for this MacBeth - so some of that the tension was lost for me - but perhaps that was intentional? Overall, a wonderful performance.